STEINER WALDORF HOMESCHOOLING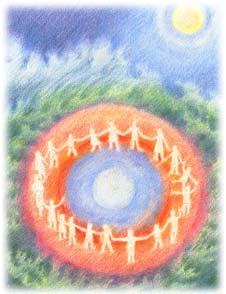 'Education for the head, hands and heart'
Welcome to my page about homeschooling your child using the Steiner Waldorf method! This page describes why we decided to home school, how we decided which method to use and how we set up a 'Steiner' inspired home school.
WHAT IS STEINER EDUCATION?
The Steiner Waldorf educational method was started by Rudolf Steiner, an Austrian philosopher. There are startling differences between a regular state school and a Steiner school. During the Grade years in a Waldorf school, the children do not use textbooks of any kind, instead they have 'Main Lesson Books', which they fill in with their writing and pictures as they go through their lessons - in effect, creating their own textbooks. The other difference between a Waldorf school and a 'regular' school is that no 'formal' academics begin until the child reaches approximately 6 years old. Before this time, in Kindergarten, the children play in a warm, homely environment, surrounded by natural, simple toys. They engage in activities such as baking, colouring, watercolour painting and modelling with beeswax. Follow the relevant link below to go to my page on creating a Steiner kindergarten environment at home.
WHY WE CHOSE TO HOMESCHOOL
Let no one tell you that making the decision to home school is an easy one! It most definately isn't. We spent well over a year trying to decided whether to home school or not and in fact even went as far as applying for and accepting a school place for our daughter. Ultimately though, our daughter's learning style just would not have leant itself to a regular school environment - she likes to learn at her own pace, in a very 'hands-on' way. She likes to do a lot of art (painting, drawing etc) and she likes to be 'free'. We were very attracted to our most local Steiner school and in fact it was the only school I could see myself sending our daughter to. However, the fees are very, very high and there was just no way we would have been able to afford it. The answer, therefore, was to re-create a Steiner inspired environment and use a Steiner curriculum at home. So, we wrote to the school we had accepted the place at and informed them we no longer wanted to send our daughter there and that was it - the beginning of our homeschooling!
If you have any comments or questions, please sign my guestbook (see below).
LINKS TO OTHER PAGES ON THIS SITE
Kindergarten

The kindergarten curriculum and how to use it at home.
The Grade Years

A brief overview of the curriculum for Grades 1-8.
Supplies

A suggested list of supplies for your homeschool (kindergarten and grade years).
Links

Links to other Steiner and non-Steiner sites, plus general information.
Also see our Educational Philosophy.
Text and design © Sarah Sellers 2002